From tutus to tech - Kara Luton is a Software Engineer with no CS degree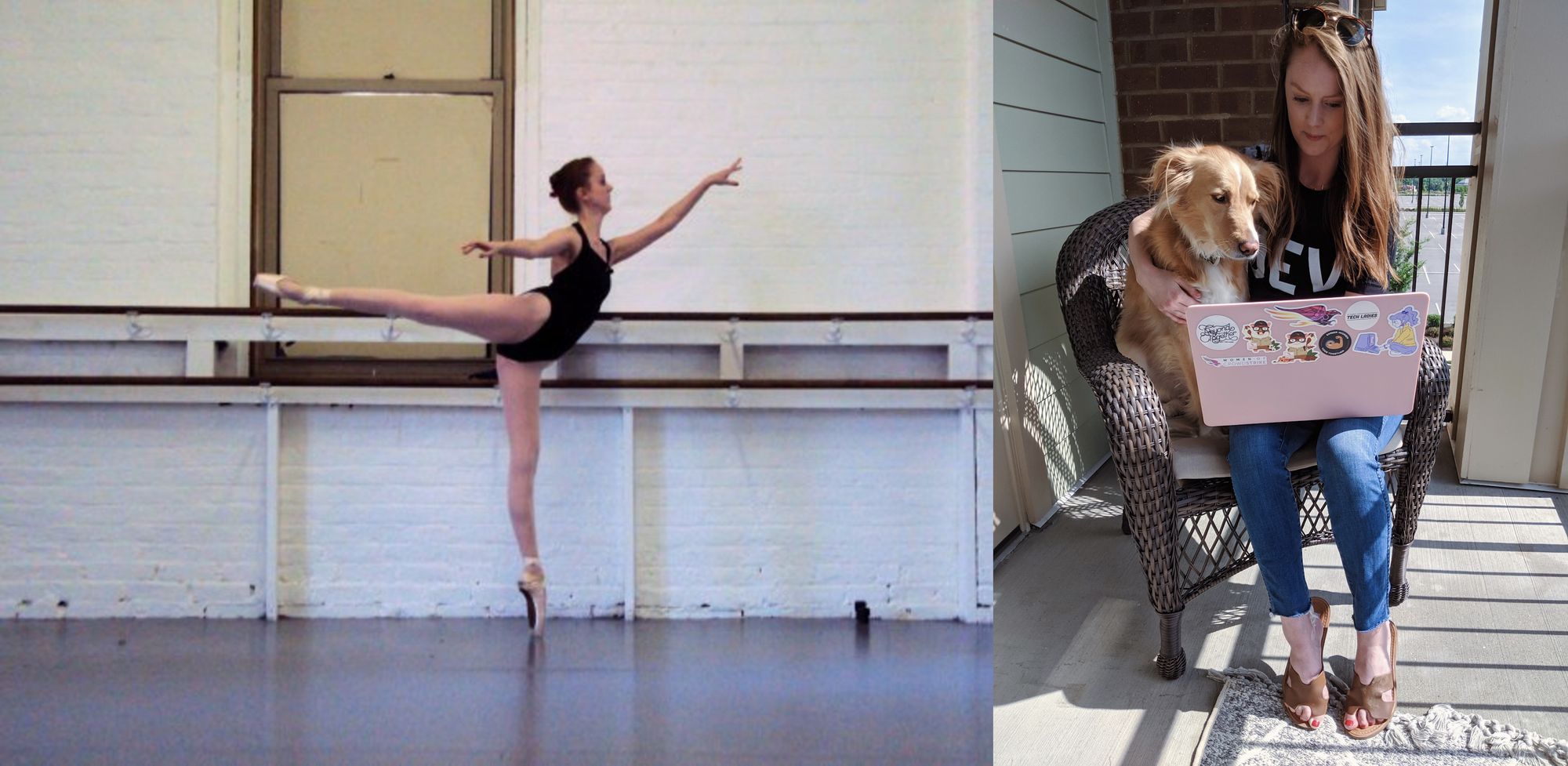 Kara Luton is a former ballerina who now works in software development. I chatted to her about making big career changes, how she learned to code, her tips for getting hired and what her life is like now she is a Software Engineer.
Hey, so can you give us a short introduction for people who want to know more about you?
Hi 👋🏼Currently, I'm a Software Engineer on the UX team at CrowdStrike. We're a cybersecurity company that stops breaches. My coworkers are located all over the world but I work in Nashville, TN which is where I grew up. I never wanted a career in tech until my mid-20s which is when I went to a front end engineering bootcamp. Before that, I pursued a career as a professional ballerina until I was 18 and then worked as a music publicist. I had always wanted to be a music publicist. I majored in public relations in college and worked really hard to land a spot after graduation. Being a publicist is extremely stressful though and I got burnt out pretty fast.
Did you ever think when you were a ballerina that you would one day be a web developer?
Absolutely not. I didn't even know this could be a career. I was the complete opposite of any tech-minded person. I had a computer at home but I didn't know what coding was or really how websites were even made. I did do a bit of HTML and CSS on my MySpace back in the day but I didn't really realize what I was doing.
How did you first get interested in coding?
I had been working as a music publicist and had gotten really burnt out. I knew I wanted a  new career but didn't really know what I wanted to do so I started exploring a few different paths. Originally, I thought I wanted to go into HR or in Higher Ed as an admissions counselor. But one day I stumbled upon CodeCademy and started teaching myself HTML and CSS for fun. I really fell in love with it and that's when I realized this could be my future career.
Can you tell us about your experience at Iron Yard bootcamp and how they helped you become a programmer?
I absolutely loved my time at The Iron Yard. Unfortunately, a year or so after I graduated they shut down nationally but even if I knew that was going to happen ahead of time I still wouldn't have chosen another bootcamp. My program was 12-weeks long and only focused on front end engineering.
We learned HTML, CSS, vanilla JavaScript and then dove into Vue and Ember. My class only had eight or so people in it so we got a lot of one-on-one attention which was invaluable. Iron Yard really prepared me to become a programmer by teaching me the basics, deep diving into a couple of topics and, really, just by teaching me how to teach myself. That's such an important skills as a programmer.
How did you get your first programming job at Lewis Communications?
I found a listing for a web developer position at Lewis through Indeed. I applied through there and then got an interview. I had an initial getting-to-know-you type interview, a take home test and then a review of that test plus a on-the-spot coding challenge. Overall, I think the interview experience with Lewis was really great. I stayed there for almost two years before switching to my current job at CrowdStrike.
How has your life changed since becoming a professional programmer?
My life is a lot more stress free now that I'm a programmer. Of course, with any job there are going to be some stressors but there are not nearly as many as when I was a music publicist. I struggle with anxiety and when I was working as a publicist it was basically unmanageable. I still get occasional bouts of anxiety now but with less stress in my life and medication I've been able to keep it to a minimum.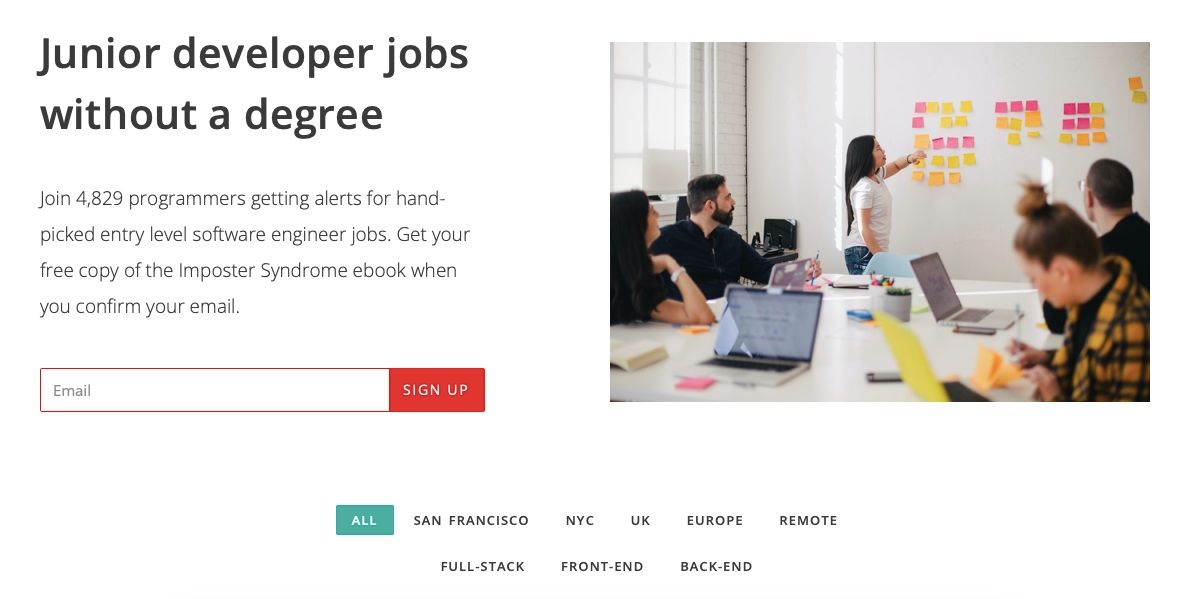 Has anyone ever asked about your coding qualifications when you have been job hunting?
Definitely. I ran into this a lot when I was job hunting. I really tried to show how my past experiences as a music publicist and a ballerina were advantages when it came to being a programmer but a lot of people weren't buying it.
They also were judgmental of the fact that I didn't have a CS degree and instead graduated from a bootcamp. I was very weary of people who were that way though. If they didn't believe that my past experiences were advantages and that a bootcamp was a valid way to learn how to code then I didn't want to work with them anyways.
What advice do you have for someone who wants to get their first programming job but they don't have the time or money for a CS degree?
You definitely don't need a CS degree to be a programmer. You don't even need to go to a bootcamp. There are so many online programs that will teach you to code. There are even a lot of free ones. Some of the best programmers I've worked with have been self-taught.
Can you tell us what an average working day looks like for you just now?
I start work any time between 8:30 - 9 AM depending on how I'm feeling that morning. When I first log on, I check Slack and catch up on emails. Then I like to make a to do list of priorities I need to get done that day. This really helps me focus and plan out my day. After all that, I'll get started on whatever project I'm working on! During the day I'll usually have a meeting or two and would most likely pair with someone as well.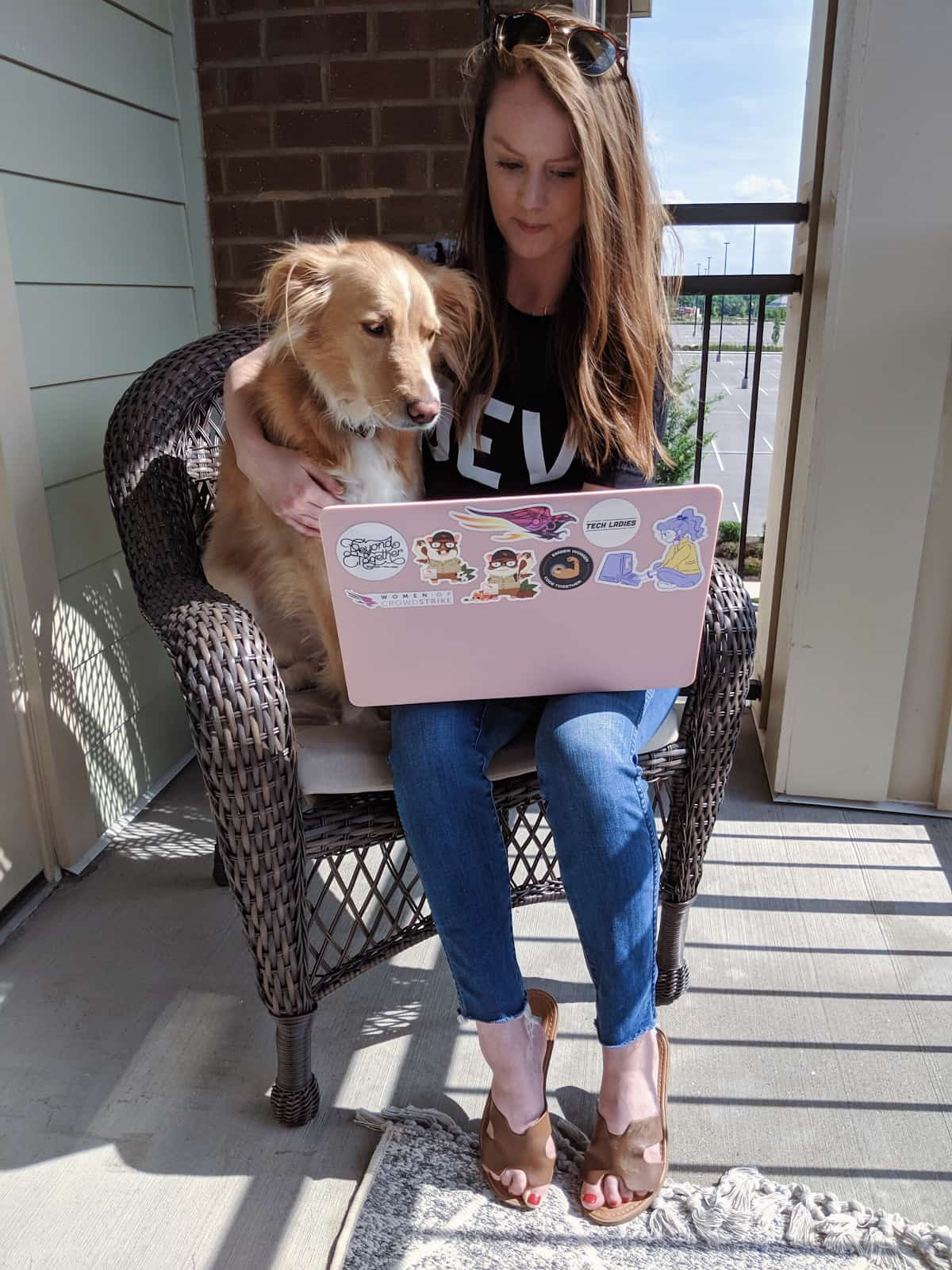 Have you ever had imposter syndrome and if so, how have you dealt with it?
All. The. Time. As someone who changed from such a different career than the one I'm in now, I get imposter syndrome constantly. I've only been coding for a few years when some of my coworkers have been coding for their entire life. Whenever I'm feeling imposter syndrome creep in, I like to take a step back and look at how far I've come. A few years ago I didn't know what a div was and now I'm writing JavaScript on a daily basis.
What is the tech scene like in Tennessee? I know you co-organise the Nashville Tech Ladies chapter, for example.
Tech Ladies has decided to focus on online events so I no longer organize the Nashville Chapter but I do co-organize Nashville Women Programmers now. You should definitely still check out Tech Ladies though. I'm still an active member and love the community they've built. The tech scene in Tennessee is really growing though especially in Nashville. A lot of companies are moving their HQs here or bringing over customer support and then bringing on developers. It's amazing to see tech develop in town and I'm excited to see where it goes.
What are your coding dreams for the future?
My biggest dream is to become an engineering manager. I'm really passionate about helping others find their career path and mentoring them along the way so I think being a manager would be perfect for that.
Thanks a lot for the interview!
If you'd like to follow Kara's example and start to code, check out these online courses and resources that other developers I've interviewed have used to learn.